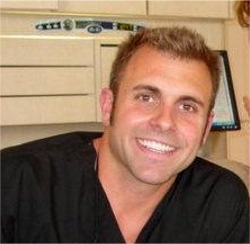 Dr. Jesse G. Hronkin D.M.D. has practiced general dentistry, with an emphasis on family and cosmetic dentistry, since 2004.
Dr. Hronkin is originally from Glennallen, Alaska. He graduated from Northern Michigan University in Marquette, Michigan with a Bachelor of Science degree in biology/ecology. After he received his Doctorate of Dental Medicine degree (D.M.D.) from the University Of Louisville School of Dentistry, Dr. Hronkin returned to beautiful Alaska and established his dental practice.
Dr. Hronkin's office is staffed by two extensively trained dental hygienists, two dental assistants, and friendly, helpful front office coordinators. Dr. Hronkin and his dental team are committed to providing comfortable, exceptional care to his patients. He and his dedicated staff offer patients a commitment to high quality dentistry and a superior dental experience while at the Alaska Comprehensive Dental Center.
When not creating beautiful smiles, Dr. Hronkin enjoys the great wonders that Alaska has to offer, by hunting, hiking, fishing, flying, and spending time with his family.
Learn why you should see an ADA Dentist!